It's been 18 months since I completed my training at the Royal Free Hospital. I took 6 months out to travel and recharge then transitioned into a locum consultant role at the same hospital I completed my training within. The process was smooth for me as I was familiar with the environment and how the hospital functions and operates.
"You always have the feeling that you're not ready to become a consultant. I think that's normal and natural"
I was apprehensive about transitioning into a consultant job.  You find a lot of people who are senior registrars who try to do other things to delay the consultant posting. You always have the feeling that you're not ready to become a consultant but my advice would be to take that step. You don't need to know everything, you don't need to be perfect. Even as a consultant you're still learning and still growing. You still go to your senior colleagues for advice and support. There has to be a recognition that when you're transitioning it will be uncomfortable but you need to embrace that feeling of discomfort.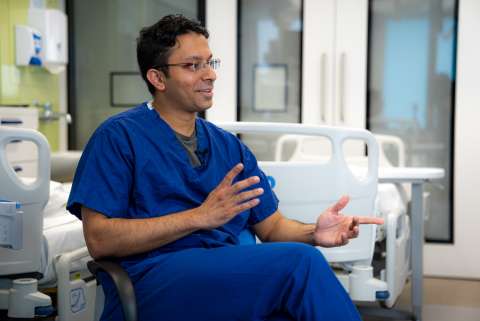 The practicalities of the transition:
It is strange to suddenly find yourself sitting in the consultant's office with colleagues who used to be your mentors and teachers. The first concern was how to address them, should I now be calling them by their first name? The sense of admiration and respect remains and at first I still felt there was a bit of a gap between myself and them. This is perfectly normal and it's understandable to not feel their equal. This develops with time as confidence grows. Its all part of the learning curve and the developmental process but It's important to know that others are experiencing the same feelings.
Upon becoming a consultant the practicalities of the day to day role changed. One starts to take on a more of an administrative role and more responsibility for the administration and running of the department. I was stepping from a senior registrar to a locum consultant posting so wasn't expected to do much in the form of administrative management  immediately which gave me time to focus on being a good clinician, focus on being a good consultant clinically and developing my management and leadership skills. Once you start to feel more comfortable you start to take a more administrative role. This was a very manageable process.
I then started getting involved with running the education programme for the unit, running the research and audit programme, developing simulation training and some people get involved in rota management
As a junior consultant it's important to understand what roles there are out there that the department needs and then see what suits you the best. You can take it one step at a time rather than overburdening yourself with many responsibilities at the same time.
"If you're a senior registrar, if you're in your ST6, ST7 year it's time to start thinking like a consultant"
At this stage of your career it's good to start taking on more responsibilities clinically on the shop floor. For example, as a senior registrar you could approach the consultant and ask to carry out the ward round; "let me run the unit and I will present all the patients and my plans to you at the end of the day". It's important to start doing this more regularly. This is something I didn't do in my final years of training and it would have helped me a lot in my transition if I had done.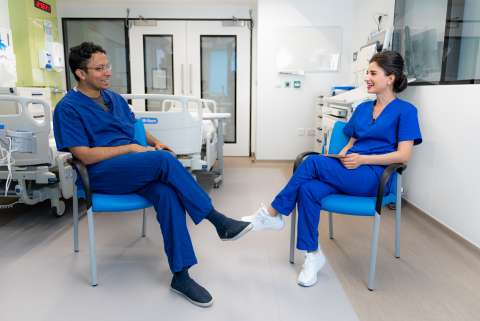 If you're a senior trainee, getting feedback from the consultants is very important.  You may be a very good clinician when you're dealing with single patients, for example, but you may find it overwhelming when you have responsibility for 10 patients at the same time, all of whom are very sick. Juggling all the different responsibilities and priorities can feel quite overwhelming. It's good and important to have early exposure to that type of responsibility.
The most challenging elements of the transition:
All of a sudden people are looking to you to make the final decision and you are the one directing people. As a senior registrar you always know there is some else there to counter check your plans. As time has passed I've started to enjoy this more and more, not because I enjoy telling people what to do, but because I have a sense of ownership about what happens to the patient. As a registrar or a trainee you are focused more on executing orders or executing the management plan whereas now I find it more satisfying coming up with the management plan and putting it in place and seeing the patients get better. This is very rewarding.
The most challenging part of the transition was trying to juggle the clinical decision making with the overall management of the unit. The main thing  is how you manage the flow of patients through the unit, to create bed space in order to account for emergency patients and to manage the elective work flow. All of a sudden, as the consultant, you may have the surgeon who may need to carry out an elective operation, you have three emergencies waiting to come in to intensive care, you have a referral from an external hospital and on top of that you need to look after the patients in the unit and you find yourself in the situation where there are no beds. How do you manage and balance this? This is what I found most challenging but it's important to know that it's not all down to you and there are other people involved in the process; your colleagues, the nurse in charge, the matron, the site managers. If you work together as a team the whole bed flow challenges become manageable.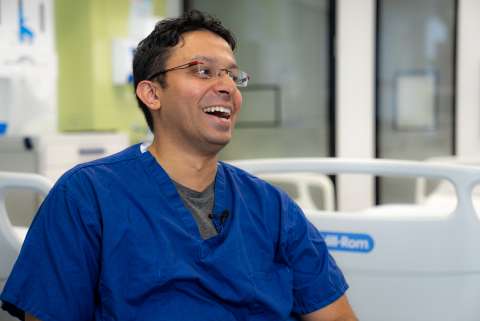 Another major challenge; as a consultant when you're on call you tend to go home at night and be available on the phone. In my early stages of being a consultant I found it challenging to have to rely on the information I was being told over the phone regarding a patient. It's difficult to make decisions about a patient remotely at 2 am when you haven't seen them and you're tired. I found this difficult at the beginning but as time goes on you become more comfortable with this element of the role.
Sometimes there is a tendency to delay the transition to consultant:
There are people who are ready to become a consultant but may be experiencing self-doubt or anxiety about making the transition. You often hear people saying; "I'm not ready to be a consultant." A lot of people think you need to be the finished product before you become a consultant. This is not necessarily the case. I think you need to be a good product, but there are still things for you to learn and get better at. The environment that you're in is very important. For me I was lucky that in my ST7 year I felt supported and encouraged to make the transition and when I did make the transition to the consultant role I felt supported by my colleagues and that is very important.
"Your colleagues can give you the confidence to evolve and develop as a consultant."
If you're in an environment where people are critical of each other that's when individuals can become reluctant to transition and feel anxiety towards the new role. If you're mentoring a trainee it's  so important to support them through the process and add encouragement.
When you become a consultant leadership responsibilities change, both from a clinical and non-clinical perspective:
"There is no doubt that when you step in to a consultant role, leadership responsibilities are thrust upon you"
As a consultant you are leading the ward round, you are responsible for the patients under your care and you're responsible for managing your junior colleagues. The nurses also look up to you for leadership regarding individual patients and the overall situation and work flow on any given day. These are all clinical leadership aspects of the role of a consultant.
In addition, you are also pulled in to certain non-clinical leadership roles which are crucial for the running of the department. These can include:
managing the junior doctor rota
coordinating and organising the teaching programme for the department
looking after the wellbeing of the trainees
These are roles that are included in part of your job plan so time is allocated to perform these responsibilities.
When should one start to develop management and leadership skills?
 Developing management and leadership skills needs to start early on and with equal importance as the development of clinical skills.
"As a clinician inevitably you are a leader."
As an FY2, for example, you have FY1s under your responsibility and you need to be able to lead them and manage them. Intensive care is quite different as it's quite consultant led, but many other medical specialties are very registrar led or sometimes SHO led.  It's therefore essential to start focusing on developing these key skills right from your foundation years.
Leadership skills are as important as your clinical skills because the smooth running of a unit or ward requires the efficient management of a team and if you can run your team well then the processes and systems run smoothly and ultimately patients benefit. You may have the best clinical teams in place but if the organisation is poorly run or badly managed then patients will end up suffering as a consequence. People are increasingly recognising that doctors and clinicians do make good leaders. There's also a lot of benefits for doctors to be involved in management.
About Dr Nazri Unni:
Dr Nazri Unni, who is originally from Malaysia completed his undergraduate training at the University of Nottingham in 2007. He developed an interest in intensive care medicine during his core medical training and went on to complete the Intensive Care Medicine Training Programme in 2017. Currently he is an intensive care consultant at the Royal Free Hospital. Dr Nazri has a special interest in liver transplantation and management of liver diseases
About Generation Leader
Generation Leader provides the most innovative, relevant and impactful online healthcare management and leadership programme for healthcare professionals. Utilising the latest technology, the world's most trusted on demand content and globally recognised certifications, learners have the tools, flexibility, community and the confidence to stand out and be successful.
The Medical Leader Programme is an online management and leadership programme, aligned to the UK's Medical Royal College's curricula and made specifically for healthcare professionals. The programme has been created by medical doctors who know how the healthcare sector works from years of experience. The programme is applicable, relatable and impactful and helps all learners succeed in gaining essential skills to excel in day-to-day work activities, such as; communicating with colleagues and patients, complex problem solving, conducting difficult conversations, innovation, knowing how to lead and motivate teams.
Join Our Community & Start Learning Today
The Medical Leader Programme is the most effective and efficient way for you to develop your management and leadership skills. All your learning in one place.
Enrol now for just £78 per month.
No tie-ins – you can easily cancel your subscription at any time*
This course is eligible for the NHS study budget.
*We are health professionals ourselves so understand the importance of this.