All your management and leadership learning in one place.
Earn CPD and professional certificates
Leading research-based content
Virtual masterclasses with experienced practitioners
The Medical Leader Programme is mapped to the management and leadership requirements of the U.K's Medical Royal Colleges. The course helps you develop the knowledge, skills and behaviours required by all healthcare professionals, regardless of seniority.
Introduction to the Medical Leader Programme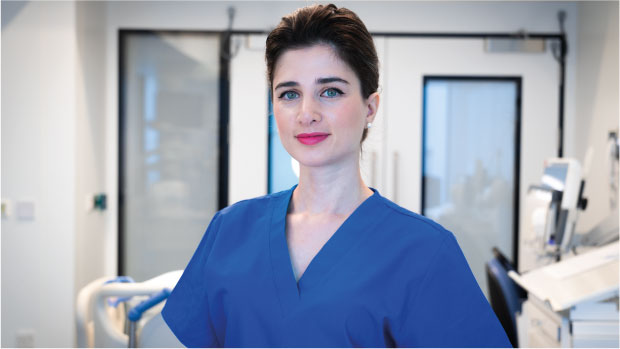 Working in healthcare ourselves we know how hard it can be to find the time and the financial resources to commit to training courses. We therefore created a fully online, accredited management and leadership programme that:
has no deadlines or start dates
can be completed at your own pace, in your own time
and at the most affordable price.
You will learn with the reassurance that the content is world leading and highly applicable. The course is CPD certified, with 30 CPD credits for you to obtain.
The Medical Leader Programme is delivered via our platform called Percipio which you get immediate access to when you sign up. Download the "Skillsoft Percipio" app for learning on the go.

Find out more
We understand you have competing pressures on your time. The Medical Leader Programme is designed for you to learn in the way most convenient to you:
100% online
Built specifically for remote learning - no study leave or time off work required.
Here when you need it
Use the platform to solve problems when they arise. The themes in the course can be accessed at any time, in any order.
Learn using any device
Whether mobile, tablet, laptop or desktop computer.
Learn your way
You can watch, read or listen to the content on the programme.
Our award-winning online programme helps you tackle real work place challenges by learning from current, relatable practitioners backed up with the world's most trusted content. Get rewarded with CPD credits as you learn.
30 CPD credits available
Credits and certificates can be completed as quickly as you wish.
Aligned to the U.K's Medical Royal Colleges
Content is mapped to the management and leadership requirements of the U.K's Medical Royal Colleges.
High quality course content
Our content is created in partnership with MIT Sloan Management Review.
Course material constantly refreshed
New virtual masterclasses featuring leading practitioners added each month. Watch any time.
Enrol now for instant access at just £78 per month.
No tie-ins – you can easily cancel your subscription at any time*
This course is eligible for the NHS study budget.
*We are health professionals ourselves so understand the importance of this.
What people say about the programme...
The medical leader program which involves the videos, interviews and presentations are a excellent way to have a insight and real life scenario in how to manage the many but very import challenges that you will face someday as a medical doctor and leader. I'm very delighted to have the opportunity to further develop my management and leader skills.
Hamid
Very resourceful platform
Great platform for training in management and leadership. Amazing content!
Ricardo Nogueira Marques
Great experience altogether!

Very interesting courses made available as well as many resources! Staff is very helpful and replies very quickly! Delighted
Rachel
Excellent. Highly recommended

I have been on different leadership courses over the past 15 years. This is by far the most complete leadership and management course that I have completed. There are modules for all the key components of how to become an excellent leader. Insights from established leaders provides credibility to the information source. Looking forward to further modules from Generation Leader.
Amit Kaura
Great Platform!!

I have just not long started my management and leadership role as a Nurse in Charge in an Intensive Care Unit and this platform has definitely helped my development, with very up-to-date and extremely interesting content adjusted to all levels of experience.
Great platform for training in management and leadership.
Joana Ferraria
Watch our free masterclass:
How to break bad news
As healthcare professionals, breaking bad news is part of our role. In this masterclass gain valuable insights from Dr Adrian Steele on tackling this important discipline.
Free Masterclass - How to break bad news