The media has repeatedly reminded us of the impact of the COVID-19 pandemic on healthcare workers. Challenges have been; fear of personal safety due to lack of supplies, managing an unprecedented surge in patient volume, redeployment to unfamiliar departments and working in new teams. However, there has not been much mention on how this pandemic has influenced medical leadership and its effects on leadership in the future. The pandemic has emphasised weaknesses within hospitals, such as safety and communication errors which have increased significantly since the start of this health crisis. 
Certain components have been identified that can transform a healthcare organisation. In order to eliminate medical errors there must be alignment across these following components:
1 – Culture of safety
Going forward, leaders have to possess the necessary skills to create a shift in the organisational thinking. The working environment has to focus on respect and transparency. Team members must be able to easily identify unsafe conditions and feel confident enough to report them. 
2 – Holistic, continuous improvement process
Healthcare leaders should assess the risks and inefficiencies in a healthcare organisation as a whole, so that priorities can be made to address areas that need more urgent attention. It is important as leaders to select the right team for this as well as provide support and remove barriers so that the work can be completed. 
3 – Sustainability
Healthcare workers have to remain constantly updated in changes in policies, procedures, protocols and pathways. Medical leaders should facilitate this and make is easy for healthcare workers to understand their roles and any changes to it. 
4 – Leadership development training
By offering this to healthcare workers, the organisation will help create a culture of innovation, ultimately leading to organisational success. This will also create a positive sense of well-being amongst the workforce as individual professional training requirements are addressed. 
The large surge in patients being admitted to the hospital during the Covid-19 pandemic has led to changes in hospital systems, pathways and ward structure. This has in turn led to the realisation that shared ownership is integral for success, as healthcare organisations have had to work collectively as a whole system to strive towards a common goal. The pandemic has created circumstances for team collaboration and a focus shifted towards patient care.  
"This is the vision we have and we have to do it together. Everyone has their role." Mr Kevin O'Neill, consultant neurosurgeon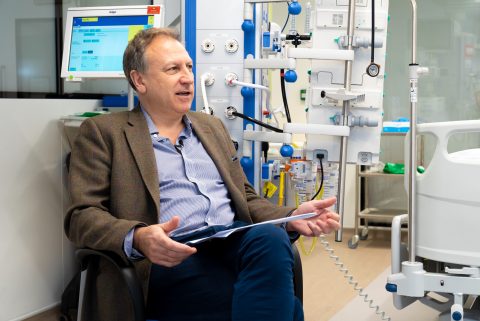 The pandemic is one of the most significant global health crises in recent history and as evidenced, a strong physician leadership is required to lead effectively. The performance of leaders, especially in times of crisis, has a large impact on the organisation. We have also learnt the importance of adaptability in leadership as many healthcare professionals have been redeployed to unfamiliar clinical specialities, had their training suspended, clinical rotations and exams cancelled and PhD studies postponed. These changes could potentially be regarded as a threat to the career development of many healthcare workers, however this flexibility in roles will likely lead to a deeper understanding for adaptive teamwork. Healthcare workers agree that being part of a multidisciplinary team has helped them feel more confident in caring for patients with Covid-19. Formal training is replaced by learning on the job and learning how to manage complex clinical situations and adapt the service delivery accordingly. 
The impact of the Covid-19 on the qualities of a medical leader:
1 – Empowering team members and empathising with their teams
One of the repeatedly mentioned top qualities of a medical leader is to empower people, as it will lead to a greater engagement amongst team members who will feel encouraged to suggest a wide range of problem-solving approaches. Instead of ordering a list of tasks, some leaders have found it useful to inform their team of objectives and allowed them to suggest strategies to achieve them, this might even lead to better problem solution proposals.  With the pandemic and the sudden rising demand on the healthcare organisations, the importance of delegation of tasks and trusting team members have never been so prominent.
2 – Having physical presence and showing transparency
Leaders must have a physical presence and in a transparent manner communicate relevant information to their team members to make them feel included and empowered. This also means the willingness of admitting strengths, weaknesses and fears. 
3 – Utilising multiple leadership styles and showing vulnerability
The pandemic has changed the way physician leaders were previously portrayed as directive and hierarchically orientated. Interviews conducted with healthcare leaders has highlighted how sharing their thoughts and fears on the uncertainties of the pandemic have led to building credibility within their teams. It is also important to ensure team members are being heard and feel valued. 
4 – Being more self-reflective
The pandemic has allowed medical leaders to take part in leadership reasoning to a greater extent; self-reflection on performance and how matters could have been managed differently. This presents an opportunity to learn from others and oneself as well as engage in reflective practice for the benefit their future leadership. 
About Generation Leader
Generation Leader provides the most innovative, relevant and impactful online healthcare management and leadership programme for healthcare professionals. Utilising the latest technology, the world's most trusted on demand content and globally recognised certifications, learners have the tools, flexibility, community and the confidence to stand out and be successful.
The Medical Leader Programme is an online management and leadership programme made specifically for healthcare professionals. The programme has been created by medical doctors who know how the healthcare sector works from years of experience. The programme is applicable, relatable and impactful and helps all learners succeed in gaining essential skills to excel in day-to-day work activities, such as; communicating with colleagues and patients, conducting difficult conversations, knowing how to lead and motivate teams and problem solving.
References 
Warraich S, Olabi B, Azhar B, Tanzeem S.F., Fischer M (2020). Medical leadership in the NHS during the COVID-19 pandemic. British Journal of Hospital Medicine Vol. 81, No. 6 https://doi.org/10.12968/hmed.2020.0250
Standiford TC, Davuluri K, Trupiano N, et al (2020). Physician leadership during the COVID-19 pandemic: an emphasis on the team, well-being and leadership reasoning. BMJ Leader 
Doi: 10.1136/leader-2020-000344
Prosser D (2020). The Impact of the COVID-19 Pandemic on the Future of Healthcare Leadership. Three Critical Components for Safe Patient Care. Healthmanagement.org, Vol 20
The Medical Leader Programme is the most effective and efficient way for you to develop your management and leadership skills. All your learning in one place.
Enrol now for just £78 per month.
No tie-ins – you can easily cancel your subscription at any time*
This course is eligible for the NHS study budget.
*We are health professionals ourselves so understand the importance of this.